Social media platforms like Instagram have made it easy to connect with our loved ones and share posts, stories, and conversations with them. However, when it comes to sending messages to your friends to invite them to a party for example, or you want their opinion on a certain matter you can not send the message for each profile alone it is tiring. This is where Instagram group chat comes to the rescue. If you want to know how to create Instagram group messages, this article has you covered. We will be discussing tips and tricks for using Instagram groups, navigating through the settings, and some other helpful information.
Instagram group chat
Instagram has become more than just a post-sharing platform, with the updates that are happening and the launch of many new features, connecting with your loved ones is becoming easier. The Instagram group chat feature has made chatting with multiple people more practical. Earlier we used to send a message or share posts with multiple friends individually, but since the launch of this new feature, we have been able to send messages to 2 or more people with one tap.
Keep reading to discover how to create an Instagram group messages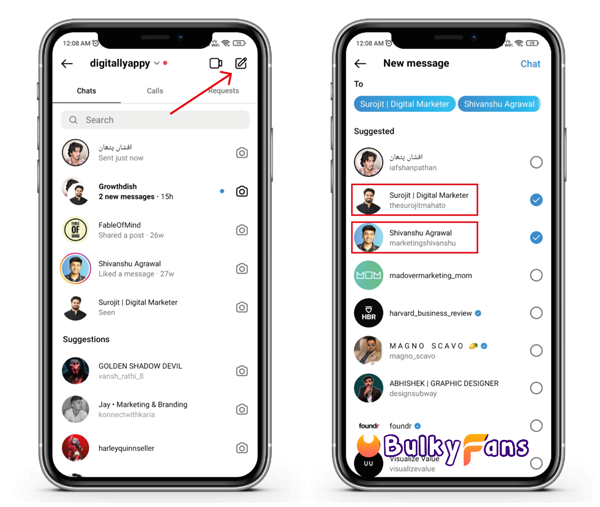 Learn how to create Instagram group messages
With Instagram often most popular on Android and iOS, creating a group chat is very simple. Here's how to do so;
once you log into your account, tap on the messages icon.
click on the Create New message icon beside the 3 dots on the right side of the page.
Enter the name of the users you would like to add to the group chat
tap the message you would like to send and you are all set up
How to use the Instagram group messages?
Now that the group is successfully created, all the members can exchange pictures, links, stickers, make video or voice calls, and many other things.
You can also add up to 250 profiles after creating the group, and delete them if you are the admin. Additionally, you can rename the group, and make other people admins… You also can leave it whenever you would like to or report any bad and disrespectful message.
What can you use the Instagram group message feature for?
Instagram group messages may be used in a variety of ways outside of just connecting with friends and hanging out. Below, we provide some examples of what you can accomplish with them.
1. Business team
If you own a business -whether it is an offline or online one-, you can use the Instagram group messages for more improved and flexible communication with your team. The group chats facilitate real-time communication and make it easy for team members to exchange ideas, ask questions, and talk about projects. This quick and easy exchange of information will help decrease incorrect assumptions and misunderstandings, as well as enhance decision-making. Team members can communicate projects and share resources more easily thanks to the Instagram group chat capacity for file sharing, plus audio and video calls.
Additionally, if you need to speak with your partners or clients about the presentation of the new product, or want to ask your suppliers for more material to work with, using a single conversation instead of speaking to the entire group individually is more practical.
2. Teaching
People who provide informative content and courses for their followers such as coaches, therapists, and chefs… will find the Instagram group messages feature useful. They can add all the participants in the course to the group chat and engage with them more, make team video calls, and upload helpful documents to everyone at once rather than each person alone. You can of course do this on a third-party app that was created especially for this purpose, but Instagram is an easier alternative since it is already available on everybody's phones and it is more practical and easy.
3. Friends and family
And of course, you can benefit from the group chat and add all your friends to it so you can all have a good laugh about a post and discuss subjects, as well as help each other with solving problems or giving opinions on a certain matter.
To conclude, Instagram has developed itself from being only a photo and video-sharing platform into a more useful and productive one. With the Instagram group messages feature you do not need to download any additional apps to contact a group of friends or other people for business purposes. This will save you from having too many apps on your phone and help you stay organized by having everything in one app.
Q&A
Can you add someone to a group chat after creating it?
YES, even though the group chat was already created, if you are the admin you can manually add people to the chat.
Do Instagram group chats have a limit?
when it comes to the people you can add to the chat, the maximum number of recipients is 250. Also, the group chat size allows a maximum of 100 messages per 24 hours but not all the time, the app usually does allow more messages it depends on many other factors.
Can newly added people see previous messages in the group chat?
Yes, when you add someone to a group chat, they will be able to see the previous messages in that conversation, except for the disappearing pictures and videos shared previously.